We get a lot of people asking about the loads and loads of laundry we do.
How do you get all that laundry done?
How many loads a day do we do?
Who folds it all?
First of all, we have several hampers, some in each bedroom. Second, everyone has a certain day for their laundry, and the older children do their own. (Wash, fold or hang, and put away) They are also responsible for washing their own bedding and bath towels. If someone misses their day, they have to try and fit it in another day.
This is our (Mom and Dad) laundry hamper, we keep it in our closet, and have the clothes separated into whites, lights, and darks. (lights are anything that is not all white or all dark) Our day for laundry is Wednesday.
These are our son's hampers in his closet. He has his own room, and has them also separated into whites, lights, and darks. This is a big improvement to the way he did it at college. He had two piles, one for dirty, and one for clean. He is actually pretty good about hanging all his shirts and folding his pants now. His day for laundry is Monday.
Our 16 and 15 year old boys share a room and each have their own hampers. Their day is Friday.
The three younger boys share a room and share this hamper. I do their laundry most of the time, sometimes they will help, or one of the other children will help. I try and have them put their laundry away after it is hung and folded. Their day is Tuesday.
The three girls share a room and share these hampers. They keep them divided according to colors also. The problem we have with them, is who's turn it is to do it. They each put their own clothes away. Their day for laundry is Thursday.
I keep this hamper in the laundry room for kitchen, wash clothes, towels, and any other items of clothing that are left around.
These are baskets we keep above our washer and dryer, to hold clean wash cloths, towels and unpaired socks. We get a lot of those.
To try and minimize the amount of socks that are stray, we try and have everyone rubber band their pairs together when they take them off, and wash them that way.
I only use
Shaklee Get Clean Laundry products
. We started using Shaklee natural products about 12 years ago and have been hooked ever since. My first product I was introduced to was the
Nature Bright
laundry booster and stain remover. It uses natural enzymes and active oxygen to re-brighten laundry, de-stain upholstery, and more. I had a hard time getting out stains when a friend told me about this product.
Not only are these products extremely concentrated, safe for your family, economical, they are also extremely effective.
One of our daughters gets a rash when she wears clothes that she gets from someone else that has not been washed first with the
Fresh Laundry
. She has very sensitive skin, and never has a problem with the Shaklee products.

The
Get Clean® Laundry Mini Kit
contains a selection of our most popular laundry products to help you make your laundry cleaner and fresher for your family and the planet.
Get Clean offers nontoxic and natural cleaning choices that are SAFE, POWERFUL, GREEN, and SMART.
The Get Clean Laundry Mini Kit contains:
Below is the whole Get Clean line of products. I use all of these except for the dryer sheets. We don't use any other products to clean with. The health and safety of our family is the most important.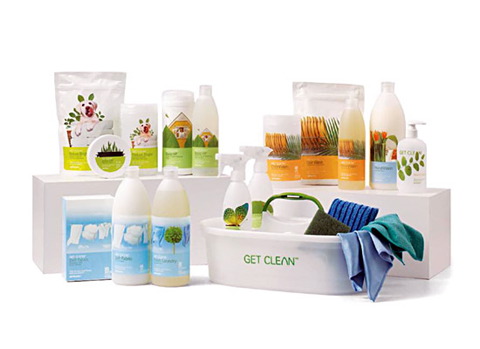 Click on the link above to get a list of everything that is included.
You'd have to spend more than $3,400 to get the same amount of clean found in the Get Clean Starter Kit!*
And, when you purchase the Get Clean Starter Kit you also make a positive impact on the planet: Keep 108 pounds of packaging waste from landfills. Eliminate 248 pounds of greenhouse gas
Sign up to be a member and you will receive a life time membership which give you 15% off all your orders.
Linking up to: