Like us on
Facebook
now to receive updates on the Shaklee Olympian Athletes.
I am not much of a sports fan myself, but I do enjoy watching the Olympics with my family. Another thing I like about the Olympics is that is gets the whole world joined for some competition and fun.  Not only are the people together actually playing the games themselves, but they come alive in just about everyone's house through the TV, computers, and now on the go everywhere, with smart phones, giving updates.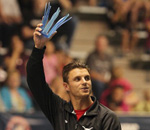 There are eight athletes that are a part of the
Shaklee Pure Performance Team
who have qualified for the Games in London. Let's follow these athletes, and watch them bring home the GOLD!