Like us on
Facebook
now to receive updates on the Shaklee Olympian Athletes.
I am not much of a sports fan myself, but I do enjoy watching the Olympics with my family. Another thing I like about the Olympics is that is gets the whole world joined for some competition and fun. Not only are the people together actually playing the games themselves, but they come alive in just about everyone's house through the TV, computers, and now on the go everywhere, with smart phones, giving updates.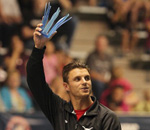 There are eight athletes that are a part of the
Shaklee Pure Performance Team
who have qualified for the Games in London. Let's follow these athletes, and watch them bring home the GOLD!
Dennis Bowsher, Pentathlete
Corey Cogdell, Trap Shooter
Caryn Davies, Rower
Troy Dumais, Diver
Margaux Isaksen, Pentathlete
Seth Kelsey, Fencer
Eleanor Logan, Rower
Keith Sanderson, Rapid Fire Pistol Shooter
These
eight Shaklee-powered athletes
are competing in the
2012 Games in
London
!
Shaklee Sports Nutrition
™ is powering these elite athletes and fueling their dreams from start to finish, so that they can train longer, recover faster and perform better to make their record-breaking achievements possible.
Vision.
Work ethic.
Natural ability.
Character and attitude.
Reaching full athletic potential to finish strong.
Add Shaklee products, and develop the
winning
edge.
Especially exciting is that Shaklee Pure Performance athlete and 35-time national champion
Troy Dumais
has qualified for his
fourth
diving team, joining Greg Louganis as the only American men to do so! See the story on
ESPN.com
.
Last year I saw
Eli Bremer
, a top-ranking pentathletea speak about how he went from being an overweight kid with limited athletic ability to competing among the world's best in the Beijing Games in 2008. For him, it's about setting goals and having something to work toward. He also talked about how he uses Shaklee products because they are the safest on the market and he knows there will never be any band substances in them.
Do you want to know what the Olympians take to have the winning edge over others?
It is……

These are the Favorite Shaklee Products:


Do you enjoy watching the Olympics?
What is your favorite sport to watch?
Subscribe to our blog, follow us, or like us on
Facebook
now to receive our latest posts so you won't miss any DIY projects, home décor ideas, how to's, organization ideas, recipes of all kinds, cleaning tips, and health and wellness information.