I am so excited! My husband and I just got back from the 2011 Shaklee Global Conference in Washington DC with over 5000 attendees. Here is a picture of us receiving a recognition award from Roger Barnet the owner and CEO of Shaklee. It was great being up on stage with soooo many people in the room.
Here we are right after we received our award. My baby was such a trooper, she was great, and every one loved the little Shaklee baby.
This is a picture of Roger Barnet and my baby and me.
This is Roger with his wife Slone. Their company has the best natural nutrition products in the world and they offer a great at home business with a great compensation plan.
We had a awesome time and Shaklee announced some new products, a new referral program, and a FREE Membership offer.
New & Improved Shaklee Vitalizer™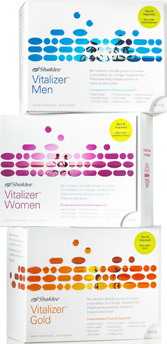 Vitalizer is the most advanced multinutrient supplement pack in the marketplace today, and it features a patent-pending delivery system designed to enhance absorption of key nutrients. Vitalizer is more than just a single multivitamin—with 80 bio-optimized nutrients clinically proven to create a foundation for a longer, healthier life, it's the only comprehensive multinutrient supplement pack you need. There's a Vitalizer that's right for everyone.
Get a FREE Shaklee Membership (a $19.95 value) and additional 15% savings on future purchases when you purchase Shaklee Vitalizer

™.
Vitalizer provides the best nutritional science in one convenient daily serving.
Learn More About Vitalizer.
Click here
.
Backed by 55 years of nutrition science, a first-of-its-kind Landmark Study, 12 clinical trials, and with formulas that target the specific health needs of men, women, and active adults, Shaklee Vitalizer is the first step toward an optimal nutritional foundation.
Why is it S.M.A.R.T.™?
What Micronutrients are Delivered?

Vita-Lea®Advanced Multivitamin
Micro created for immediate release in the stomach to enhance absorption of folic acid
Highly potent, comprehensive, and balanced daily supplement providing 23 essential vitamins and minerals and 100% or more of the Daily Value of all vitamins

B+C Complex
Sustained-release delivery to the small intestine; clinically shown to provide up to 198% greater absorption of B vitamins over 12 hours
Optimal levels of vitamin C, as well as essential B vitamins: thiamin, riboflavin, niacin, pantothenic acid, and biotin
Caroto-E-Omega
Carotenoids, vitamin E, and omega-3 fatty acids are enteric coated for release in the upper intestine to reduce fishy aftertaste
•
Ultra-pure, pharmaceutical-grade fish oil that contains seven omega-3 fatty acids--with optimal levels of high potency EPA and DHA
•
Triple berry blend--featuring black raspberry, red raspberry, and blackberry seed extracts--provides
77X
more polyphenols, ounce for ounce, than juice
•
Full spectrum of naturally sourced vitamin E, the most effective form
•
Robust blend of antioxidants, including lutein, lycopene, beta carotene, and alpha carotene

Optiflora®Probiotic
Triple-layer encapsulation protects the live cultures against harmful stomach acid for release in the lower intestine.
Extensively studied active cultures of
Lactobacillus acidophilus
and
Bifidobacterium longum
.
Here is our little 5 month old. She was a 1st Time Attendee, and this little chair (A Bumbo) she is using is the BEST for little ones.
We are very blessed to find a company like Shaklee. Their products have helped us out tremendously, we're be able to work from home, make some extra money, and provide products that help other people.
Are you looking for a business where you can work from home, have unlimited earning potential, and help other people in the process? Shaklee may be the company for you. S
end an email to (ParentsofaDozen@live.com) if you are interested. We can explain how our team works and how you can get on the 'fastTRACK' to success!